Fair-priced Fine Dining in Beautiful Boutique Setting
Exquisite fine palate and yet fair priced dining is consistently to be found at Bishop's Dining Room on a historic old hill (well lane, this is flat Norfolk after all!) with 14th and 15th-century remnants opposite St Andrews Halls in Norwich.
Run by effusive and welcoming Italian, Allessandro (Alex) Tranquillo, Bishop's has developed a deserved reputation for great tasting, not overfilling, dishes that show off local produce and well-chosen wines.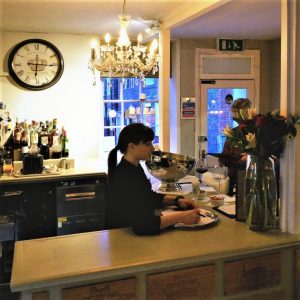 The welcome at the bar before being seated is service at its best and always an opportunity to chat with the passionate food and wine-loving owner, and lively but courteous staff. It's an unrushed moment to down an aperitif or crack open a bottle with some complimentary olives and dried spiced broad bean snacks. You feel as relaxed as being in someone's front room before a private dinner party.
Somehow, Bishop's combines the friendly and the formal with the single-room restaurant decked out in crisp white linen, silver and crystal chandeliers yet with an adjacent laid-back front-of-house bar that feels both intimate and relaxed and where it is easy to spend half-an-hour before and after, just chatting among yourselves or with the staff – and of course, drinking.
Like the time taken to present perfect plated dishes, Bishop's never feels rushed, and even when full, is neither noisy nor pressured. On each occasion we've been it has been a clock-stopping evening of sybaritic serenity and savouring of beautiful food and wine that feels like an oasis in our hustle bustle world.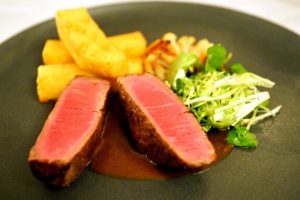 The presentation is exquisite without being ostentatious. The excellent chef knows exactly when to stop rather than go over-the-top. The food is closer to just about perfect rather than in-your-face pretentious, as Jay Rayner said back in 2011:
"The simplest things done well and with proper attention to detail. All of which describes Bishop's perfectly." – Jay Rayner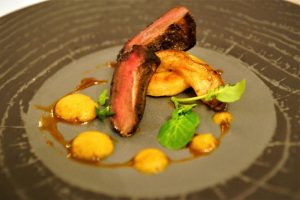 One cannot fault the perky pinkness of the meats we ate and varied styles. On one occasion (Dec 2017) duck, pork, lamb and venison, but pigeon and beef have been equally divine on other visits. The Spring 2018 menu includes beef, venison, pigeon and guinea fowl, as well as cod and turbot.
Previously, for a 50th birthday visit, we devoured three 3-course combos between two of us so that we could try more dishes! It was more that the menu descriptions sounded so delicious than that they were small portions. One does not leave stuffed, but rather, satiated from having fed all of one's senses.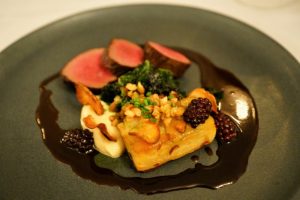 We ate at Bishop's four times in 2017 and the service and food were consistently good.
Our first visit of 2018 in March was as good as ever with three game and four fish dishes on the menu and depending upon what you order, blackberries with every course!
A 3-course dinner is priced at £36.95, lunch just £19.95. Themed nights may include 4-8 courses with wines and be priced £70-£110.
Wine and Spirits List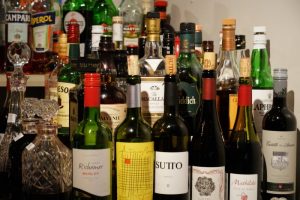 The wine was fairly priced at £6.50 – £8.50 a 175ml glass, and even the economical Trebbiani d'Abruzzo, Cantina Frentana 2015 (henceforth the friendly Joey Tribbiani wine thanks to my Dutch dining partner's joke) offered up a refreshing buttery citrus as a light aperitif. Sherries, bubbly, and a Champagne & Crème de Cassis (blackcurrant) Kir Royale, are also pre-dinner options from an eclectically stocked bar that also serves up a range of ports and dessert wines.
The La Mancha and Rioja reds, and Mendoza Malbec, are also great once warmed and mellowed in the glass. The French Sauvignon Blanc by the glass was perhaps overly subtle to the point of being dull in comparison to NZ Sauvignons or an upmarket Sancerre.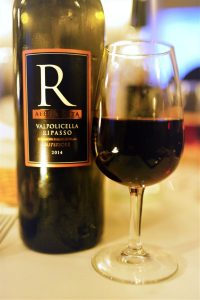 Having previously tried the excellent Morellino di Scansano (Sangiovese), on two visits, we set out to try the "R" Valpolicella Superiore Ripasso, Alpha Zeta, 2014 at £37, on another occasion. The Ripasso technique, passing the wine over the grape skins of Amarone wines for a second fermentation turns the lighter Valpolicella from a medium to a fuller-bodied dark cherry/subtle tobacco nosed wine that is not heavy or overly intense and which superbly accompanies beef and game. It is smooth and quaffable with good legs, swish and swill it around mouth and glass, and the bottle will easily last the meal. Like the environment and ambience, a wine not to be rushed.
April 2017 saw us attend an Italian-themed dinner with wine tastings. It was one of around a half-dozen sell-out themed events that Bishop's runs throughout the year to tie in with themed wine flights such as New Zealand Sauvignons, Bordeaux, Spanish, or just Champagne! The atypical colour and unusual tasting organic Vino di Anna Palmento, made from Nerello Mascalese grapes which were grown on the north face of Mt Etna – picked by hand and crushed by foot, was an interesting viticultural experience.
Dessert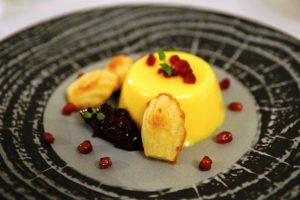 A range of 3-4 dishes plus a great cheese board option presented on a wedge of wood or slate square. The cheese boards come with half a dozen grapes with their bottoms sliced off so they stay on the board/slate they are presented on – no embarrassing rolling off when served!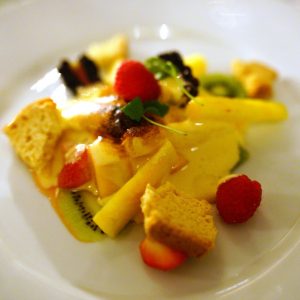 Past and present desserts tried there have included a zesty Zabaglione with grilled fruits and almond biscotti; Passion Fruit Bavarois; Scotch Bonnet Chilli and Fudge Brownie with salted caramel ice cream which was light on the chilli but warm on the palate; Carrot cake with orange gel, honeyed yoghurt, blackberries and refreshing orange sorbet.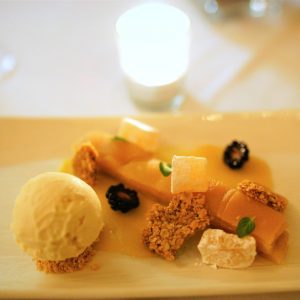 Despite a 1970s fear of Turkish Delight, Bishop's twist on the dessert was, well uh, delightful. Squishy blackberries, jellied apples and calvados, tasty apple terrine, apple purée, oat tuile, and cinnamon ice cream atop a crumb base as if it was a one-person spherical scoop of cheesecake.
Ratings summary
Quality: Fresh local produce cooked, or in the case of the meats – barely cooked, to perfection


Choice: Good range of food and drink, comprising 5-6 dishes per course, very limited vegetarian options, but a perfect range of in-season game


Speed: Attentive and efficient serving


Service: Attentive, courteous, friendly


Value: Good value within its fine-dining sector, probably the best value of the top-5 restaurants in Norwich


Atmosphere: Boutique dining in intimate surroundings


Access: A double-step-up to the dining area from the street-level pre-bar area but no ramp and narrow access would prohibit wheelchair.


Restaurant details
Bishop's Dining Room & Wine Bar
8-10 St Andrew's Hill
Norwich
NR2 1AD
Telephone: 01603 767321
Opening times: Tue-Sat: 12pm-2:30pm; 6pm-9:45pm (last orders)
Social Media: Facebook | Twitter
Bookings, Menu & More Reviews