First for Fish & Chips in Norwich
The Norfolk local EDP newspaper recently reported on an interesting Top Ten of Trip Advisor restaurant reviews in Norwich. To locals, it was probably unsurprising that a fish and chip shop came first, namely, the renowned Grosvenor Fish Bar.
I once saw a queue of some 100 people stretching back 50 yards from their entrance down the street on Fireworks night.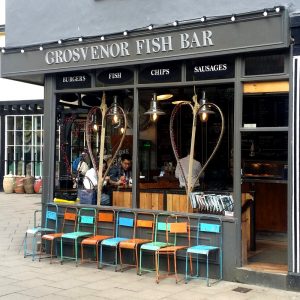 It has attracted over 1500+nearly faultless Trip Advisor reviews, consistently rating it 4-5 out of 5 (1200+ gave it top marks), ranking it #1 of over 600 restaurants in Norwich!
Fish & Chips have been served for 90 years on the site. You can even bring in your own drink without corkage charges or have your fish and chips delivered to you at the Birdcage Pub opposite. Alternatively, you can enjoy your take-out in the summer and sit on the St Gregory's green alongside or enjoy the 1940s reminiscent 70-seater vintage decor dining area downstairs.
Hints of humour and twists on tradition have been injected into their menu which includes Bass with Sass or Big Mack, Shark Bites or Loony Toony tuna, from their Specials menu, priced at £3.50-£5.50. More familiar items like battered saveloy sausage, pies, peas, burgers, chip butty, or chips and curry sauce are there too. Vegetarians and pescatarians need to be aware that the chips are fried in beef dripping, as many chefs recommend:
"Beef dripping or lard … is the ultimate chip cooking fat because it gives a crisper, tastier result" – The Guardian, 'How to fry perfect chips'
The limited space in the old building would make offering a separate meat-free fryer option for veggie chips difficult. Salads and steamed fish are on the menu, though. The current proprietor is the son of an Italian-born, Welsh-raised, lifelong restaurateur, whose father also ran a fish and chip shop in South Wales,
The current proprietor and co-owner with Duane Dibartolomeo is the son of an Italian-born, Welsh-raised, lifelong restaurateur, whose own father also ran a fish and chip shop in South Wales, frequented by Tom Jones. Christian Motta says:
"We try to place importance on service and ambience as much as the food, along with trying to keep prices down"
Awards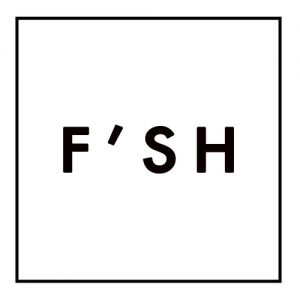 2014 – Best fish and chip shop in Norfolk, Suffolk and Cambridgeshire
2017 – Co-owner, Duane Dibartolomeo, as 2017 VisitEngland Awards for Excellence Tourism Superstar
Ratings summary
Quality: 9/10 – Consistent quality without pretension, no 'posh' chips here!
Choice: 9/10 – Good range of food and drink, plenty of choice
Speed: 7/10 – Can get very busy so only let down by its popularity
Service: 8/10 – Friendly staff
Value: 9/10 – Great value and portion sizes
Atmosphere: 8/10 – Downstairs dining takes you back to the War years!
Restaurant details
Grosvenor Fish Bar
28 Lower Goat Lane
Norwich
NR2 1EL
Telephone: 01603 625855
Opening times: Mon-Sat: 10:45am – 7:30pm (or later); Sun: closed
Social Media: Facebook | Twitter
Bookings, Menu & More Reviews